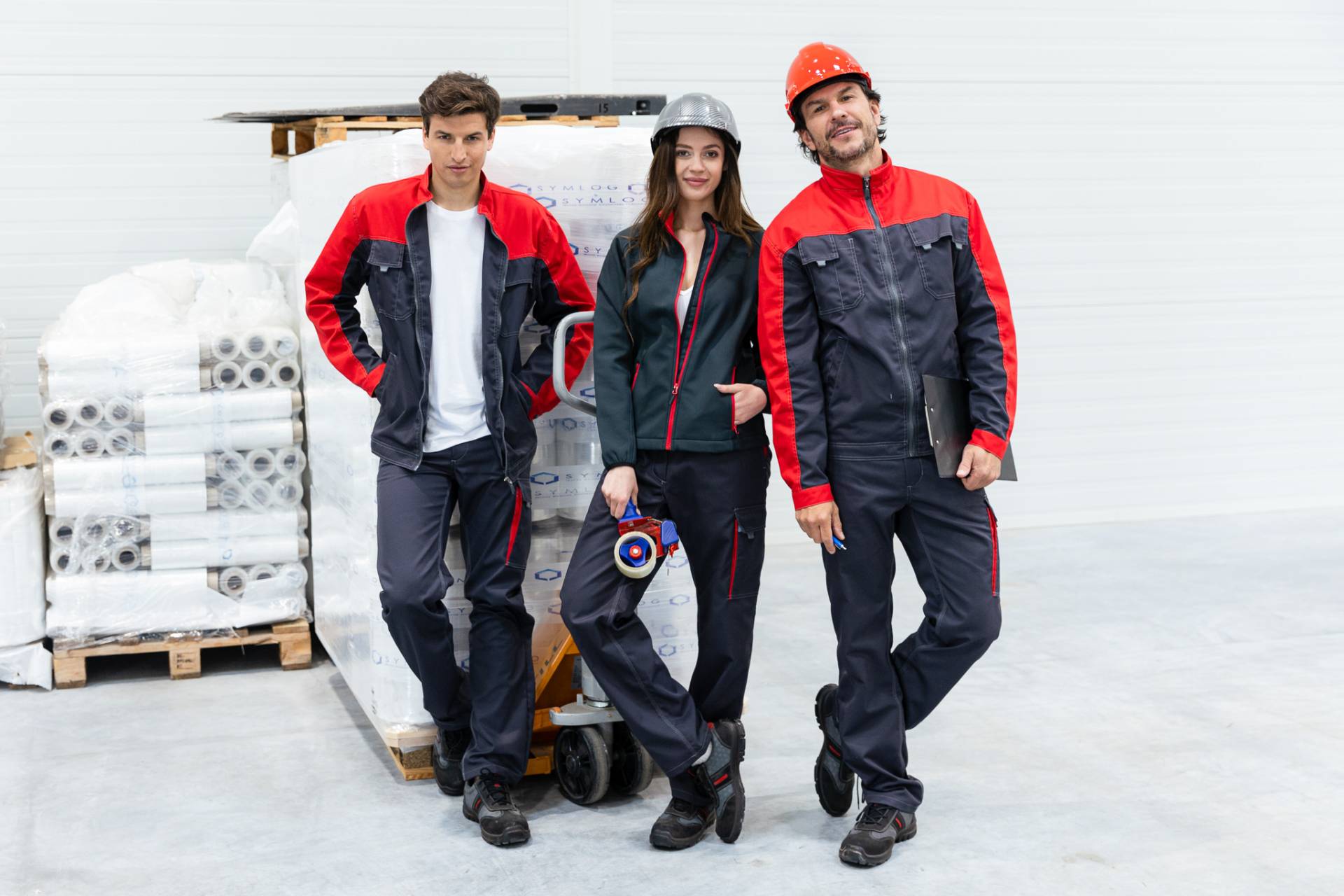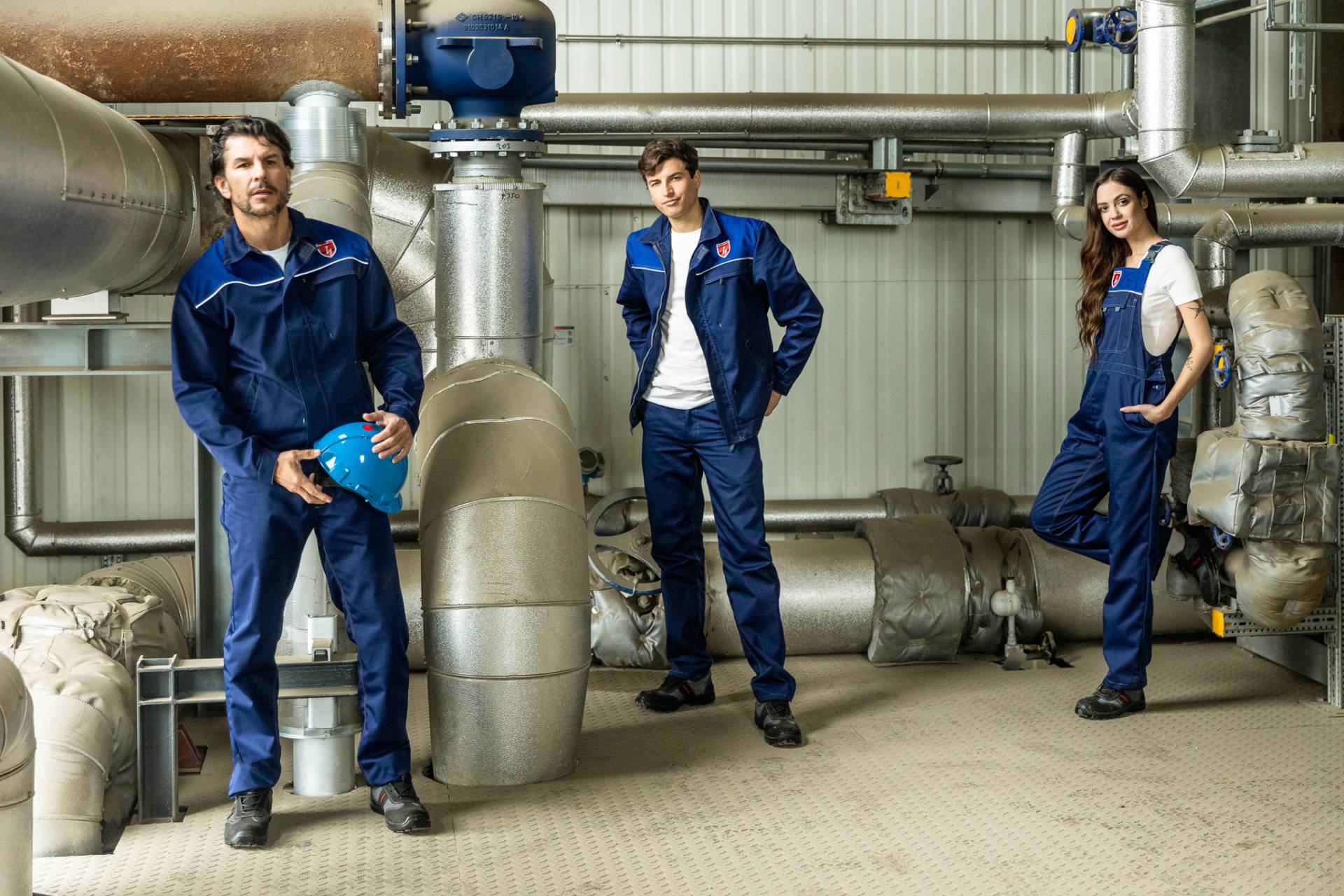 Slide

as a Polish producer we guarantee high quality offer adjusted to our customers' needs
Slide
Our wide range of workwear and protective clothing allows you to choose the right solution for each workplace in every sector
WHO WE ARE
LOGO
The LOGO company is a workwear manufacturer for over 30 years. We deliver the highest quality in work and protective clothing. Our own modern sewing facility allows us to produce clothing compliant with current requirements, using most advanced technologies.
We offer:
carefully selected, tested, and durable fabrics from reputable manufacturers,
quality tested by the workwear rental and laundry services,
garments tailor-made to the client's needs,
rich possibilities of branding,
a selection of adequate products compliant with protective norms,
corporate clothing and PPE products to supplement LOGO workwear
QUALITY AND EXPERIENCE
WHAT MAKES US DIFFERENT
PRODUCTION
Own production since 1989
Modern machinery park
Short execution time
Unusual sizes
Product quality control
01
GRAPHIC
Visualization with sales offer
Vast possibilities of branding modifications
Customized clothing model
Implementation of individual designs
02
BRANDING
Digitally printed patches (included in the price of the garment)
Computer embroidery
Direct prints
03
QUALITY
Certified fabrics
Proven additives
Strong, specialty threads
Reinforced stitching
04
PERFECT CHOICE
INDUSTRIES WE WORK WITH
Production
Workwear for manufacturing workers
LOGO's offer allows you to properly fit workwear (sweatshirts and work pants) to the needs of your production site, and the vast possibilities for modification of clothing models improve working comfort. We also help you choose the right work OHS products for your workplace.
Transport
Workwear for workers in the transport and logistics sector
Convenience and comfort is paramount - with LOGO's vast range of workwear you can choose ergonomic pants and comfortable work boots, and complement your workwear with a t-shirt, polo, fleece, softshell or sleeveless with company branding.
Warehouse
Workwear for warehouse workers
In the LOGO workwear range you will find models of clothing that have proven successful at warehouse workstations for years, due to the high durability of the garments, the careful stitching and the reliability at the workstation
Automotive service
Workwear for automotive service workers
Our unique experience in the service sector enables us to offer products even for the most demanding customers. For many years we have been dressing automotive service stations all over Poland - we focus not only on proper ergonomics of the service clothing, reinforcements, but also properly selected fabrics
Construction
Workwear and protective clothing for construction workers
Our offer is supplemented with OHS products (safety shoes, safety helmets, work gloves, Hi-Vis reflective clothing, reflective vests), which allows us to create a comprehensive offer for each construction worker
Supervision
Workwear and protective clothing for supervisory personnel
We offer the best quality products, carefully selected and complying with global quality standards. Our offer for construction supervision employees allows you to choose the best accessories (safety shoes, helmets, reflective vests), tailored to the needs of the position.
Road worker
Workwear and protective clothing for road workers
Our vast offer of Hi-Vis reflective clothing allows us to prepare an offer for road workers working on construction and road renovations.
Fuel sector
Protective clothing for fuel sector workers (ADR)
We are Poland's leading manufacturer of anti-electrostatic clothing (anti-static, ELSTAT series), which is the basic equipment of workers employed in the fuel sector (ADR). Many years of experience and clothing certified in the best certification institutes in Europe provide the highest quality and safety level for handling fuel tankers or transporting liquefied gases.
Petrol stations
Workwear and corporate clothing for service station employees
We offer a vast range of protective clothing for petrol station employees - anti-electrostatic protective clothing (ELSTAT line), corporate clothing (t-shirts, polos, fleeces, softshells, jackets with insignia) and specialist protective shoes. Additionally, we are able to offer masts and flags.
Welding
Welder's protective clothing
The proven SAFESTAT series (flame-retardant, anti-electrostatic clothing) protects workers exposed to heat and fire. It is ideal for positions that require continuous work in risk factors such as welding.
Refrigerated warehouses
Protective clothing for winter and refrigerated warehouses workers
We offer proven, quality winter protective clothing for employees working in cold temperatures (outside in winter) or in refrigerated warehouses.
Cleaning sector
Workwear and service clothing for the cleaning industry
We offer an extensive collection of garments for the cleaning sector, which are distinguished by excellent cut and comfort of use, durability and vast possibilities of color changes - we care about the quality and aesthetics of the aprons we produce.
Trade
Workwear and corporate clothing for retail workers
Our vast production capacity and experience allow us to advise you on the right choice of clothing for retail sector employees - from aprons for cashier staff to light clothing (t-shirts, polos, fleeces, sofshells, pants) for indoor workers. We also offer a vast selection of footwear.
HoReCa
Workwear and corporate clothing for HoReCa employees
HoReCa sector requires quality and aesthetics - our extensive production capacity and many years of experience help us to choose the best solutions for our customers (aprons, bibs, chef blouses, chef pants, hotel cleaning service aprons)
Loyalty programs
Workwear for loyalty programs
We offer joint development of any garment design, even the most advanced and complex, so that it meets the quality and aesthetic requirements. Our products are included in many loyalty programs and help build brand strength of our customers.
OUR PRODUCTS
WE FOCUS ON QUALITY
Tested and durable fabrics from reputable manufacturers
Quality proven in rental and service workwear
Clothing in accordance with the colors and functional requirements of the customer
Vast options for garment branding
Selecting the right products that meet protection standards
Comprehensiveness - we complement LOGO workwear and protective clothing with corporate clothing and carefully selected OHS products
COMPANIES THAT TRUST US
FOR OVER 30 YEARS
SEE OUR REFERENCES