SAMPLE COLOUR SET
https://logo.pl/wp-content/uploads/2019/04/Ogrodniczki-robocze-SERWIS-grafika-producent-LOGO-kolor-1-724x1024.png
https://logo.pl/wp-content/uploads/2019/04/Ogrodniczki-robocze-SERWIS-grafika-producent-LOGO-kolor-2-724x1024.png
https://logo.pl/wp-content/uploads/2019/04/Ogrodniczki-robocze-SERWIS-grafika-producent-LOGO-kolor-3-724x1024.png
https://logo.pl/wp-content/uploads/2019/04/Ogrodniczki-robocze-SERWIS-grafika-producent-LOGO-kolor-4-725x1024.png
https://logo.pl/wp-content/uploads/2019/04/Ogrodniczki-robocze-SERWIS-grafika-producent-LOGO-kolor-5-725x1024.png
https://logo.pl/wp-content/uploads/2019/04/Ogrodniczki-robocze-SERWIS-grafika-producent-LOGO-kolor-6-725x1024.png
Choose your own colour scheme
VAST CUSTOMIZATION OPTIONS
Many fabrics to choose from
Wide range of colours
Change some elements of the model
Add branding (embroidery / print / printed patch)
BIB & BRACE DUNGAREES
SIZE: S – 3XL
The model is eagerly chosen
for production
Create your own work Bib & Brace – choose the best fabrics, aesthetic colour schemes, and brand them with your logo!
A men's Bib & Brace dungarees model recommended especially for jobs in production.
These trousers are made from lighter and breathable fabrics intended for workwear. One advantage of this material is its durability, which makes it perfect also for workwear rental.
As the manufacturer, we offer changes in colour schemes and additional elements, such as pockets, fastening etc. Please contact our Sales Department for more information.
Comfortable and functional Bib & Brace dungarees for any job
The cargo pocket makes room for storing additional objects
Ergonomical design guarantees comfort for the worker
As the manufacturer, we offer changes in fabrics, colours, and elements of the garment (additional pockets, knee reinforcements)
Ergonomical design guarantees comfort for the worker
Main pocket on the yoke with a flap fastened with press studs and a smartphone pocket
Reinforced 3-needle seams in areas of high risk of tearing
Cargo pocket with contrasting half-bellow
Bewet pulled tight at the waist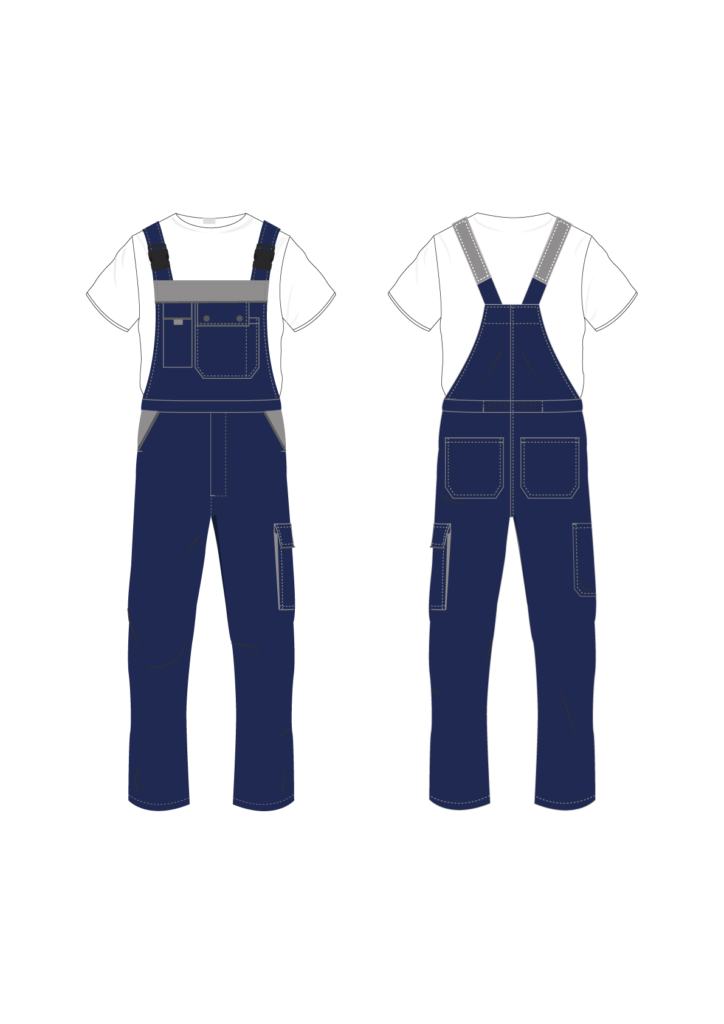 CUSTOMIZATION OPTIONS
Fabric composition
65% polyester | 35% cotton
60% cotton | 38% polyester | 2% elastane
Velcro
Metal buttons
Snaps
STITCHING
Neutral stitching with grey threads (RECOMMENDED)
ADDITIONAL OPTIONS
Cargo pocket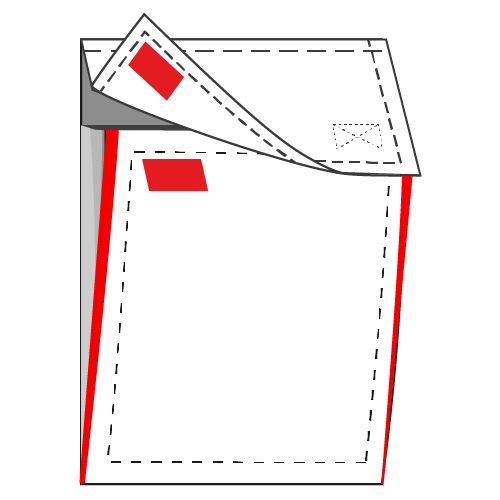 Knee reinforcements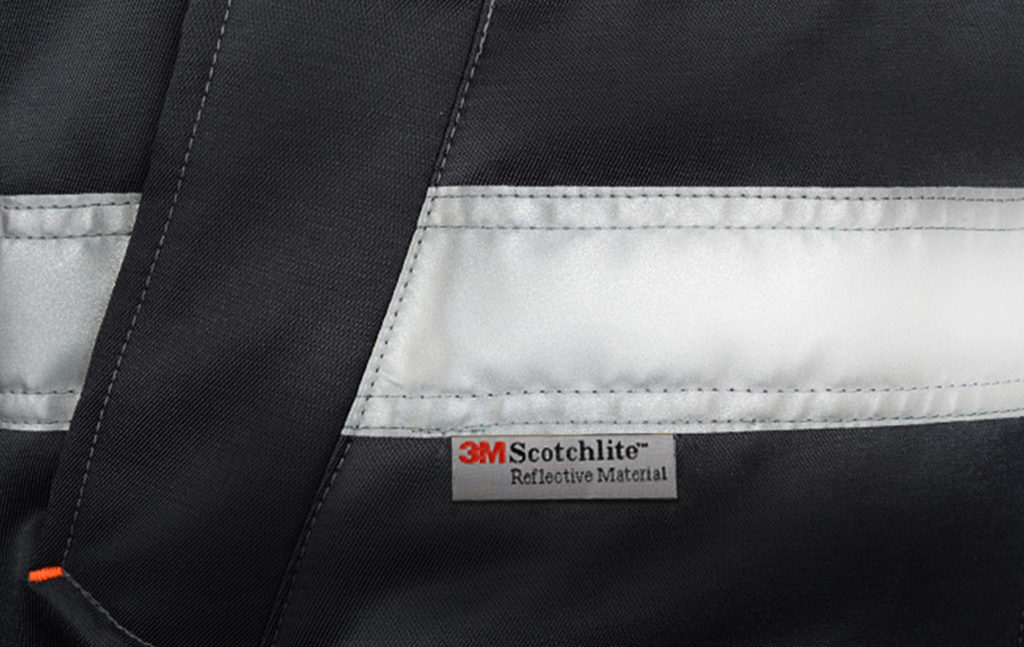 3M certified Hi-Vis tapes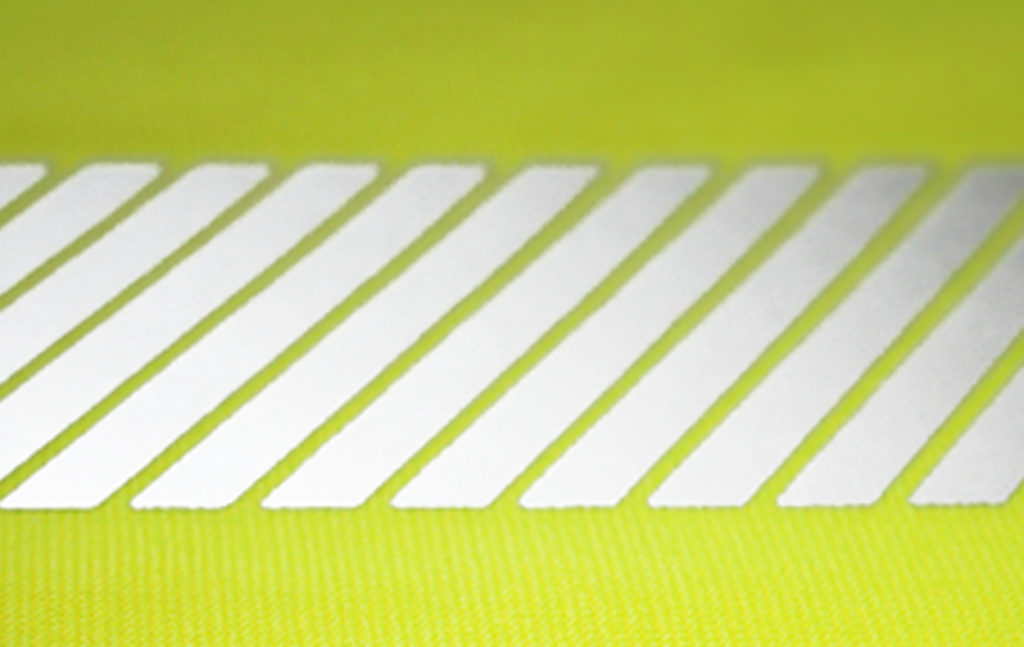 Hi-Vis thermoformed foil (5cm width)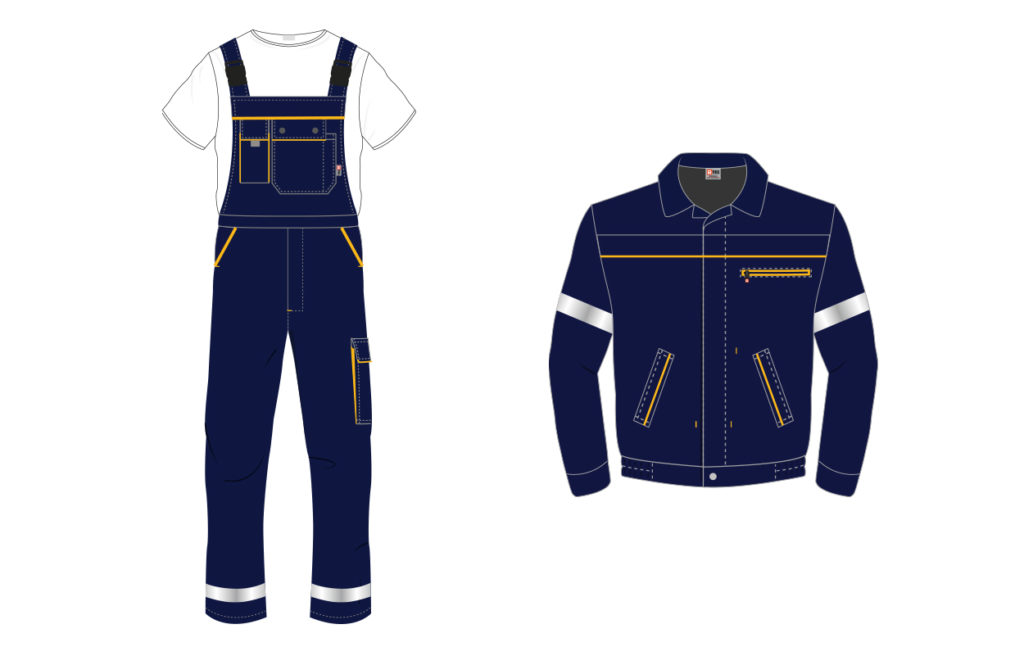 Hi-Vis tapes on legs and sleeves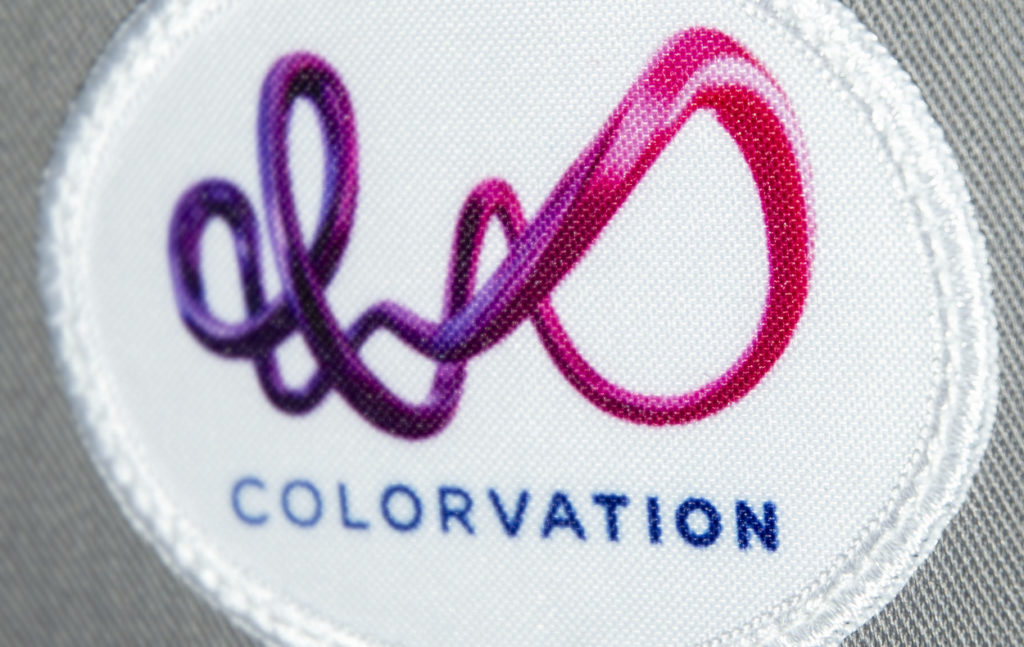 PRINTED PATCH 48h service
Dye sumblimation printing consists of printing using sublimation dye on paper. Using a heat press, the design is transferred onto a polyester fabric.
We use fold-over printed patches, overlocked, and patches with names – a great metod for personlization of garments for employees, e.g. in a laundry service.
Benefits:
Print undetectable to touch
Durability
Good colour rendering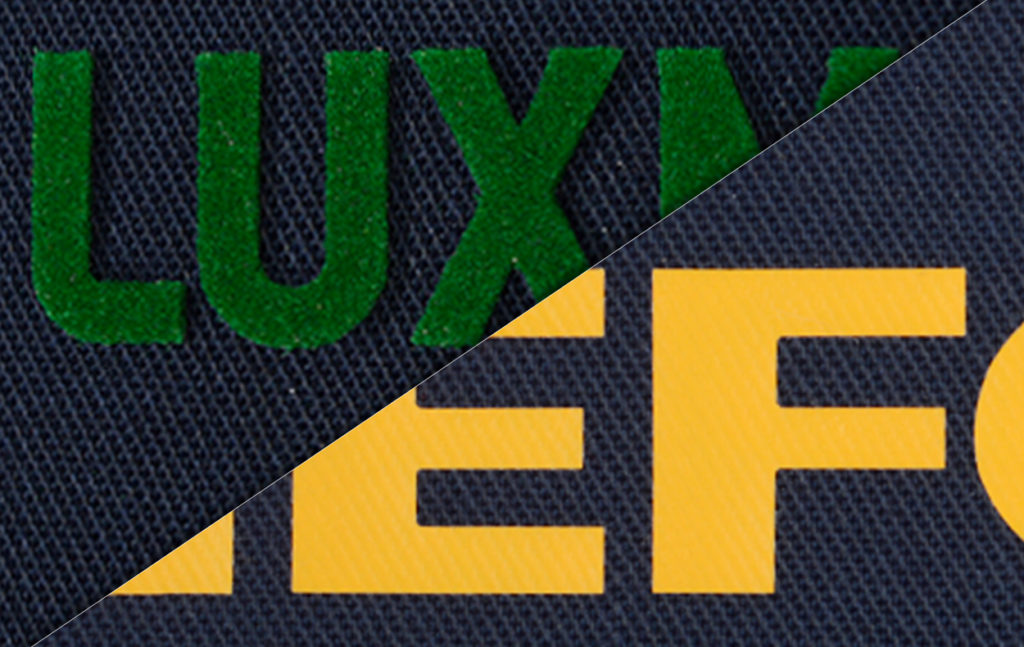 FLEX/FLOCK FOIL 48h service
The flex foil thermal transfer technique is a printing method consisting of pressing a heated foil with a previously cut design on a fabric.
The difference between flex and flock foil is primarily in their thickness and structure (flock foil is fuzzy).
Benefits:
In the place where the flex/flock foil is pressed, the fabric does not breathe – this is why it is recommended to transfer it on a big surface.
Limited number of foil colours – according to the colour template.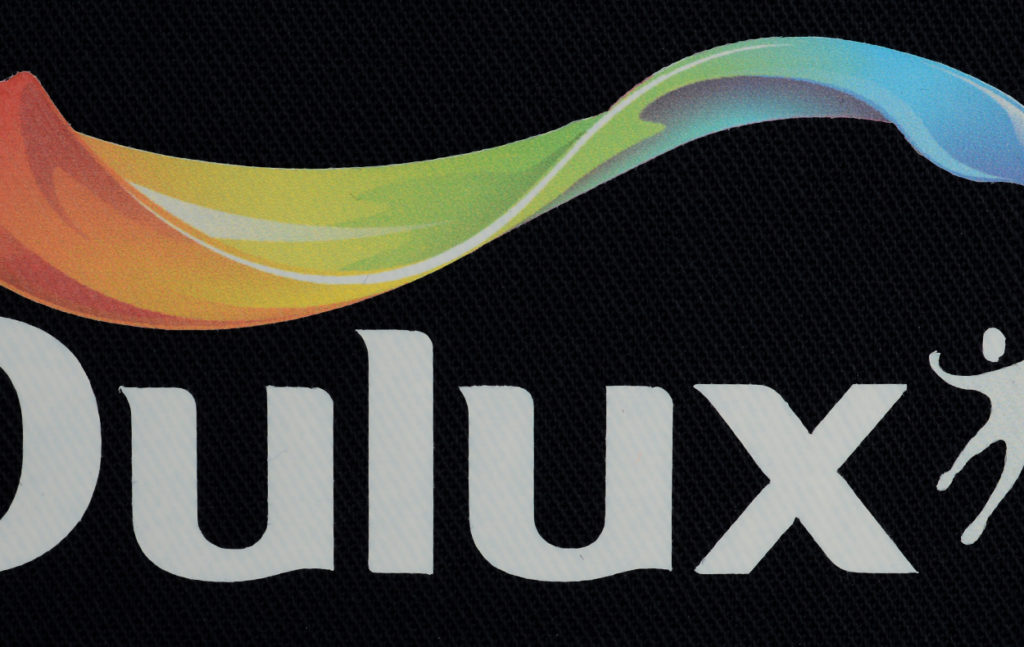 PRINTED FLEX 48h service
This technique consists of printing on a white or transparent flex foil which is then heated and transferred onto the fabric.
Great colour rendering. For use on workwear and t-shirts.
Benefits:
Fast execution
Durability
Unlimited possibilities of rendering colours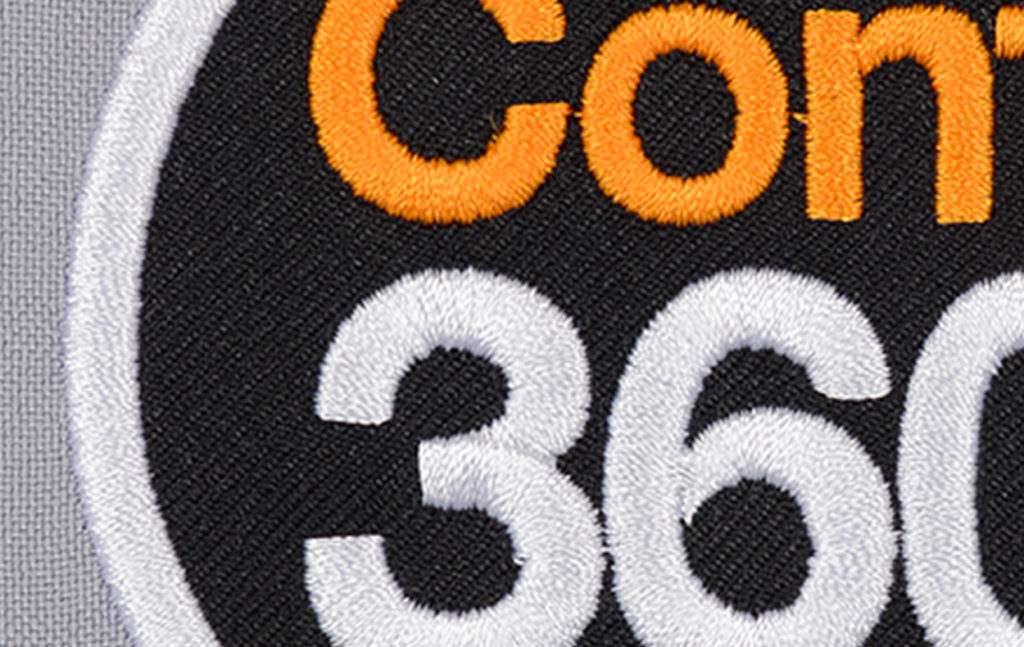 DIGITAL EMBROIDERY
Digital embroidery is an appealing and durable method of branding.
For any kind of garment, including fleece jackets.
The embroidery can be applied either directly on a garment , on a patch, or appliques.
Benefits:
Great aesthetic effect, suiting the garment
Versatile use
Durability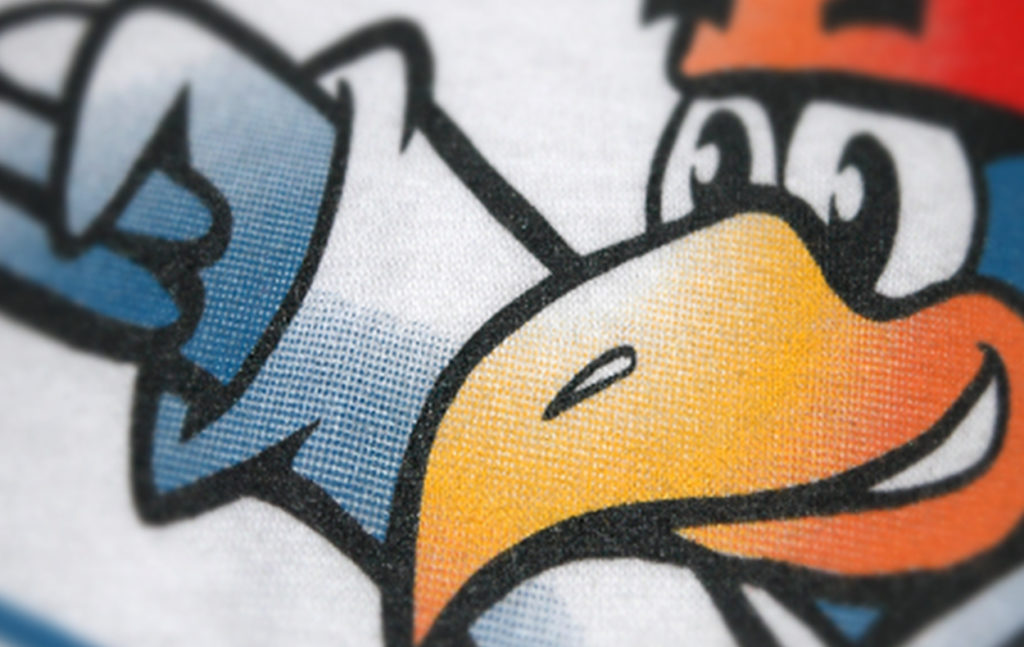 SILK-SCREEN PRINTING
A traditional and durable method of branding. Very good rendering of colours and logo details. Economical when printing in large quantities.
The print is limited to six colors.
Benefits:
cheap for large quantities
durability
Size chart
Men's sizing chart
Size
Hight [cm]
Chest [cm]
Waist [cm]